KLEEN IT was set up in 2005 as a result of the vast experience gained by IT engineers working with Enterprise Data Systems and in their dealings with the breakdown of computers. We found that due to overheating, caused by dust and dirt particles inside the equipment, problems that could have been avoided by keeping the equipment clean, were costing customers hundreds of pounds in repairs and new equipment.
KLEEN IT offer a wide range of consistently high quality computer cleaning and maintenance service to individuals and organisations using computer equipment, workstations and other IT-related machines. We have a team of operatives with specialist knowledge and experience of computer cleaning and maintenance and can make your IT equipment look like new. We work before, during and after office hours to meet the needs of each of our clients.
At KLEEN IT we use trained computer engineers from our sister company, Enterprise Data Systems, to carry out our Maintenance Clean Service. These engineers are fully trained in computer system maintenance, as well as building and repairing of computer systems.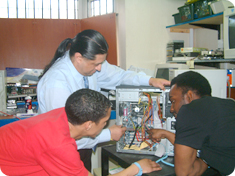 We provide services using:
• highly qualified staff.
• environmentally friendly fluids.
• effective cleaning products.
• equipment designed for IT cleaning.
• quality control on site.