We at KLEEN IT take pride in delivery quality services to customers, whether they are ordinary individuals or small to medium-sized organisations with staff using stand-alone PCs or workstations/terminals. We do not bind you to long-term contracts if you don't want to. All of our customers are guaranteed a single clean or regular cleans at they wish. We simply offer easy and affordable means for companies, large and small, to employ one of the best computer cleaning companies around. Our services cover: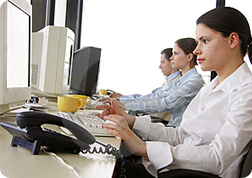 The Office
• Keyboard
• Monitor
• Mouse
• Telephone
• Printers
• Scanners
Public Buildings
• IT equipment for multi-user needs.
• All workstations/computer terminals.
• Other related-computer equipment.
We ensure that needs of our customers comply with strict health and safety standards.